Bacardi Black & Select
Land: Puerto Rico
Destilleri: Bacardi
Importör:
Rombas:

Romtyp:
Ålder: -
Storlek: liter
Alkoholhalt: %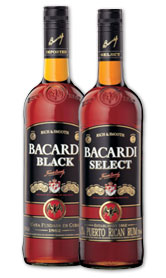 ---
BACARDI Black and BACARDI Select rums are the flavourful, premium and elegant face of BACARDI. With a smooth and rich taste, BACARDI Black and BACARDI Select appeal to more mature, stylish and sensual consumers.
Their distinctive dark appearance and rich body makes them especially suitable for nighttime consumption in bars and clubs by those who enjoy partying until the early hours.
BACARDI Black and BACARDI Select are great with cola, juices or frozen cocktails
Färg
Doft
Smak
Utmärkelser
---
Mer rom från Bacardi

Mer rom från Puerto Rico